Adolf von Harnack
The eponymous founder of Harnack House was a forward-thinker who promoted progressive science policies with implications still felt to this day.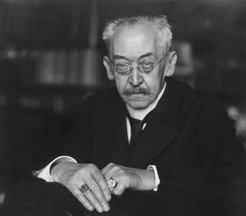 As an advocate of science management, Adolf von Harnack (1851-1930) was among the pioneers of modern science policy. Although Harnack began his theological students in 1888 as Professor of Church History at the University of Berlin, he was also committed to reforming the German science system. In 1909, he wrote a memorandum that instigated the foundation of the Kaiser Wilhelm Society (KWG). Founded in 1911, the KWG was the first German organization dedicated to basic research. Harnack served as its first President until his death in 1930. The founding principle of the KWG – promoting and fostering talented researchers rather than established disciplines – lives on to this day in the form of the Max Planck Society's Harnack principle
Harnack's ideas were progressive in many respects. He was a supporter of equality for women, championed young girls' right to education, and admired the USA as a nation free from the constrained social attitudes of Old Europe. His liberal worldview also shaped his extensive network of societal connections.
In 1926, as President of the KWG, Harnack began to draw up plans with his Secretary General, Friedrich Glum, for a guest house in Dahlem. It was named after Harnack in his honor and opened on his 78th birthday on May 7, 1929.
The US Army, which used Harnack House as an officers' mess from 1945 to 1994, revered Harnack as a supporter of German-American friendship. In the 1950s, US forces installed two bronze plaques, one in German and one in English, in Harnack's honor at the entrance to what is now the House's lecture hall.