Planck Lobby
Installation
The installation in the Planck Lobby honors Max Planck (1858-1947) as the eponym of the Max Planck Society, which manages Harnack House today. In 1948, under the name of the globally renowned physicist, the Max Planck Society made a fresh start. It emerged from the rubble of the Kaiser Wilhelm Society, which the Allied powers had decided to dissolve in light of its collaboration with the Nazi authorities.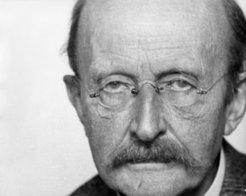 After the fall of the Third Reich, Planck was held in high regard internationally in light of his personal integrity and his role as a founder of modern physics. Planck laid the foundations for modern physics in 1900 with his formula for radiation. He was awarded the Nobel Prize for this work in 1918. Drawing on his reflections on physics and his scientific convictions, he also formulated some principles of basic research, such as "insight must precede application".
In the course of the 1920s, Planck increasingly dedicated himself to science management. As a permanent President of the Prussian Academy of Sciences – one of the world's most eminent research institutions at the time – Planck had helped to determine the Academy's direction since 1912. In 1930, he became President of the Kaiser Wilhelm Society, a position in which he invited influential figures from the worlds of science, politics and business to banquets at Harnack House.
In 1936, at the end of Planck's term as President, Hugo Erfurth photographed the renowned researcher. This series of portraits is unique among Erfurth's work, as the photographer otherwise specialized in portraits of artists. His other subjects included famous painters such as Lovis Corinth, Otto Dix and Oskar Kokoschka.
The lighting installation above the chimney wall makes reference to Planck's research into thermal radiation as well as his ethos that science must promote truth. Intentionally arranged in an asymmetrical pattern, the installation offers a contrast to the historical furnishings in the room, which today acts as a hotel lounge.