Overview
The History of Harnack House
Founded in 1929, Harnack House reflects contemporary German history from the Weimar Republic and the Nazi era through to the end of the Cold War and German reunification. Yet despite these historical ruptures, Harnack House always remained a place of international exchange and German-American relations.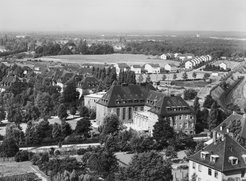 Harnack House was constructed in 1929 as the guest house for the Kaiser Wilhelm Society, the precursor to the Max Planck Society, on what was then the nascent Dahlem Campus. It served as a service center for the Society and offered scientists from across the globe "a home away from home", as the American professor of botany Thomas Goodspeed described it in 1931. Following the vision of its founder Adolf von Harnack, the House made an enduring contribution to the restoration of international scientific relations and friendship between nations following the First World War.
Moreover, as the venue for cultural events and small groups from the Kaiser Wilhelm Society, Harnack House became a social hub for the German capital, bringing together scientists, artists, politicians and industrialists. The guests, who came from every continent, included at least 35 Nobel Prize laureates.
Following the seizure of power by the National Socialists, the official invitation policy of Harnack House was guided to a large extent by the ideology and foreign-policy strategies of the Nazi regime. However, as a node in the network of Nazi society, the House was exposed to various conflicting forces. High-ranking functionaries in the National Socialist party visited Harnack House, including Hitler himself. Yet, other visitors included members of various resistance movements, including Arvid Harnack, who the Nazis executed in 1942 as a member of the Red Orchestra resistance group.
At the end of the war, American forces confiscated the undamaged building and renovated it, dismantling its historical interiors. From that point until the Allies' withdrawal from Berlin in 1994, Harnack House remained an officers' mess for the US Army. It was then handed over to the Max Planck Society as the legal successor to the Kaiser Wilhelm Society.
Today, the Max Planck Society has returned Harnack House to its former use, as originally intended by Adolf von Harnack. Just as it was in 1929, the House is a meeting place for the international scientific community and its guests from across Germany and, indeed, the entire world.