Planck Lobby
Area: 393 sqm
Height: 4.76 m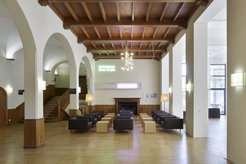 The Planck Lobby forms the social center of the House along with the light-flood Wintergarten Hall that adjoins it. The comfortable lounge furniture and crackling open fire invite an exchange of ideas and stimulate lively discussion. In addition, the Wintergarten Hall is perfectly suited to special receptions or poster sessions followed by discussions. The Bechstein grand piano is part of the room's features and can also be rented.
Previously called Bismarck Hall, this space was renamed the Max Planck Lobby following the renovation works in 2014. Vereinigte Stahlwerke, one of the world's largest coal and steel enterprises in the 1920s, made a donation to fund the interior furnishings. The plaque listing the benefactors is still displayed in the south end of the room. Following the confiscation of the house by the US Army after the Second World War, this space was significantly altered through the construction of the Wintergarten Hall.
As part of the renovation works, this space was renamed after Max Planck in honor of the eponym of the Max Planck Society. The installation featuring lighting elements and photographs by Hugo Erfurth offers a contrast to the room's historic furnishings and extensive oak paneling. The intentionally asymmetrical layout also aims to counter the room's symbolic importance during the Nazi era, when a portrait of Hitler hung above the fireplace. The lighting bars above the chimney wall are a reference to Planck's research into thermal radiation.
Reception: 240 Pers.