Hahn Lecture Hall
Area: 261 sqm
Height: 6.45 m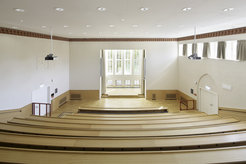 This lecture hall, once a hub for the exchange of scientific ideas, has now been renovated, drawing inspiration from the original designs from 1929. The renovation works were made possible by a generous donation from the Hermann Neuhaus Foundation, which is managed by the Max Planck Foundation.
Consequently, the same venue in which Nobel Prize laureates such as Max von Laue and Max Planck discussed their research long ago can once again be used for an exchange of scientific ideas. The hall is named after Otto Hahn, the first President of the Max Planck Society. A photo installation about Hahn and his research partner, Lise Meitner, can be found in the foyer. Fitted with classic lecture hall seating, the room can host scientific lectures and other academic events for up to 206 people. The foyer, with its comfortable armchairs, serves as a meeting point before, during and after events.
Lecture Hall seating: 206 Pers.