Lynen Room
Area: 55 sqm
Height: 3.35 m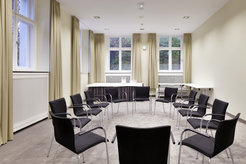 Suitable for meetings, seminars, workshops or as a conference office, the Lynen Room can accommodate up to 42 people in classroom seating.
The linear design and classic furnishings combine with modern Thonet conference furniture to create an uncomplicated atmosphere in which guests can express their inner creativity.
The Humboldt Room, Mozart Room and Köhler Room are perfect venues for parallel workshops.
Theatre seating: 42 Pers.
Classroom seating: 24 Pers.
Conference seating: 24 Pers.
U-shape seating: 20 Pers.