Ruska Hall
Area: 38 sqm
Height: 2.79 m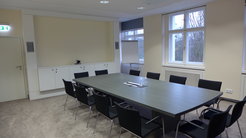 A stylish meeting room that can accommodate up to 12 people.
The integrated, ultra-modern videoconferencing system allows even people remote from the meeting to take part.
The space features exceptional soundproofing and is therefore also suitable for confidential meetings. Offering an atmosphere of laid-back elegance, the Ruska Hall fosters creativity and communication.
Conference seating: 12 Pers.