Mozart Room
Area: 60 sqm
Height: 3.50 m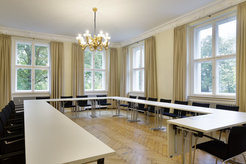 This room combines a business-like atmosphere with the elegance of a grand hotel. Back in the 1930s, it was used as a lounge. The ceiling decorated with stucco dates back to that period, as do the historic wooden windows, crystal chandeliers, oak parquet flooring and open chimney. These furnishings afford any event an air of exclusivity.
The Mozart Room is suitable for groups of up to 42 people with theater seating.
The Humboldt Room, Lynen Room and Köhler Room are perfect venues for parallel workshops.
Theatre seating: 42 Pers.
Classroom seating: 24 Pers.
Conference seating: 24 Pers.
U-shape seating: 20 Pers.