Goethe Hall
Area: 287 sqm
Height: 6,50 m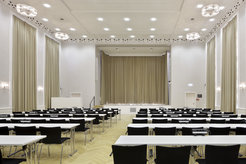 The Goethe Hall was created in 1929 as a large ceremonial hall for academic and cultural events. Today, it is only of the few rooms in the House to have retained its historic character. This hall is the classic venue for major events. Equipped with state-of-the-art audiovisual conference technology, it offers the perfect atmosphere for first-rate conferences, symposiums and awards ceremonies with seating for up to 220 people. Seating for a further 66 guests can be found in the gallery, which was restored during renovation work and returns the Goethe Hall to its 1929 condition. The stucco works also date back to that era.
Theatre seating incl. gallery: 286 Pers.
Classroom seating: 128 Pers.
Conference seating: 56 Pers.
U-shape seating: 46 Pers.