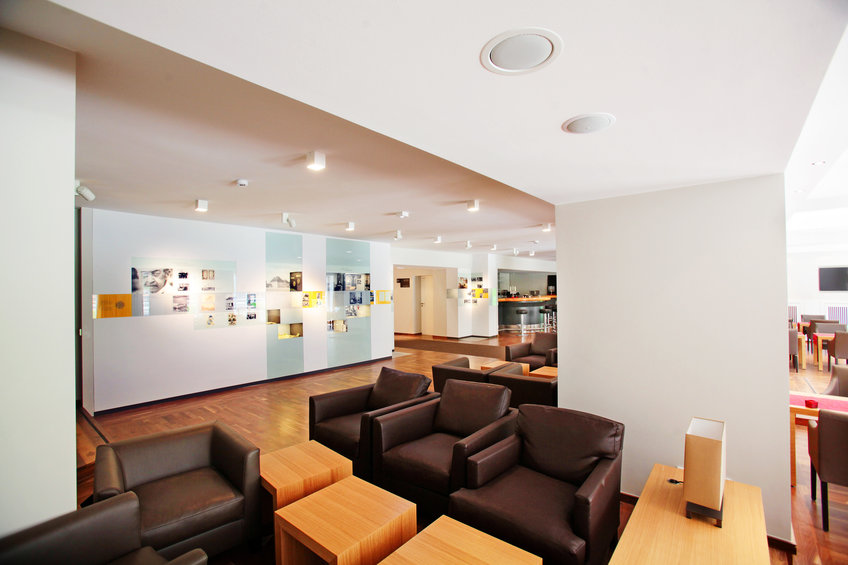 Einstein Lounge
Showcase exhibition, 1929-1994
The showcase exhibition details in chronological order the foundation and development of Harnack House and the surrounding research campus, erected in the countryside in Dahlem from 1912 onwards.
In its current use as a restaurant, the Einstein Lounge has been altered significantly from its original condition. However, the room has always been a social gathering spot. In 1929, it became a wood-paneled beer parlor, and from 1945 became a popular meeting spot for US forces stationed in Berlin as Fiddler's Green Sportsbar. The room was remodeled as part of the 2014 renovation works. The curved bar is the only surviving relic of its time under American control.
The showcase exhibition details the history of the House in chronological order. The internationalist foreign-policy strategies adopted following the First World War played as much a role in its construction as the practical requirements of the Dahlem Campus, which was in need of a service center. The showcases contain a handful of historical objects uncovered during the construction works in 2014.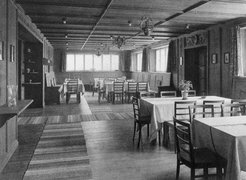 The lounge is named after Albert Einstein. On the one hand, this recalls Harnack House's time as an officers' mess for the US Army and their establishment in the House, Restaurant Einstein. On the other hand, it honors the most prominent guest to have visited Harnack House – though Einstein himself is not likely to have spent much time in the room. Albert Einstein lived in Berlin from 1914 as Director of the Kaiser Wilhelm Institute for Physics, but his prominence meant that he traveled often. He held at least two lectures at Harnack House. Then, in 1933, he left Germany forever, having been the target of anti-Semitic polemics for many years.