Suites in the Old Building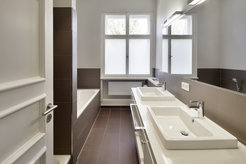 The suites in Harnack House range from 32-57m², offering plenty of space to stay a few days longer.
A premium box-spring bed, a large bathroom with shower and/or bath, and a lounge area with comfortable furnishings satisfy the highest demands for elegance and homeliness.
The seating area in the lounge includes a sofa bed that can be folded out as necessary.
Some suites feature pleasant dormers and inclined walls that together create a harmonious aesthetic and blend in well with the purist design and spacious rooms.