Female Pioneers of Science - Women of the Campus Dahlem
The physicist Lise Meitner is the most prominent researcher who lived and worked in Berlin-Dahlem for decades. But even lesser-known women shaped the campus sustainably. The tour introduces her life and shows in what short time women conquered their place in the male-dominated world of science.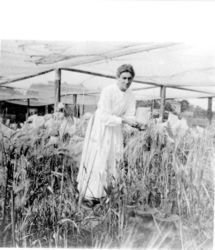 The chemist Clara Immerwahr - she committed suicide in Dahlem in 1915 - stands for the unsuccessful female struggle for professional self-assertion. But although her husband - the Nobel Prize winner Fritz Haber - did not want to see his wife in research, he employed even women: The agricultural chemist Margarethe von Wrangell worked in the 1920s at Habers Dahlemer Institute and later became one of the first full professors. She managed to combine career success and personal life. As the founder of the German Association of Women Academics, she also ensured that female scientists systematically networked and publicly asserted their interests.
During the National Socialist era, some female researchers - just as some male colleagues - used the possibilities that the inhuman regime offered for unethical experiments. The biologist Elisabeth Schiemann, on the other hand, helped many persecuted people to escape from Germany, including her friend Lise Meitner. Her work, which she carried out together with Otto Hahn at the Kaiser Wilhelm Institute for Chemistry, resulted in the discovery of nuclear fission a few months after her emigration in 1938.
A look at female careers reveals structures of the scientific and social system and its changes between the First and Second World Wars. And many questions that arise in the face of female careers in science are more topical than ever: what qualities must women bring with them to be successful in their professional lives? Do you have to be better than male colleagues? And how do you manage to reconcile work and family?
Dates
The meeting point is the Harnack-Haus, Ihnestr. 16-20, 14195 Berlin-Dahlem. The contribution is 5 €, 3 € discounted (Students and jobless people).
06.05.2017
03.06.2017
01.07.2017
05.08.2017
02.09.2017 (3 pm each)
The guided tour can be booked by groups of up to 25 people in German and English. Contribution 120 € (German), 140 € (English). 20% discount for cooperating institutions.